3rd
largest international crime industry is human trafficking
27M
men, women + children in slavery around the world
100,000
children trafficked into the U.S. annually
80%
of human trafficking involves sexual exploitation
45.3M
Americans live in poverty
1 in 30
U.S. children annually experience homelessness
10.6M
Americans are considered "working poor"
49.1M
Americans live in food-insecure households
Doing the most good
The Salvation Army, an international movement, is an evangelical part of the universal Christian church. Its message is based on the Bible. Its ministry is motivated by the love of God. Its MISSION is to preach the gospel of Jesus Christ and to meet human needs in His name without discrimination.
Why is it important?
43.5 million Americans live in poverty, either as a working poor population or in complete homelessness. The Salvation Army has operations in 127 countries and every zip code in America, offering assistance by feeding, sheltering and empowering communities domestically and abroad. The world simply can't thrive until the victims of disease, natural disaster, abuse and poverty are strengthened against future misfortune.
As part of The Salvation Army's fight against poverty, they are deeply dedicated to the modern-day fight against human trafficking (for sexual and labor purposes) – both in the U.S. and internationally. As the third largest crime industry in the world generating 32 million annually, there are currently 27 million men, women, and children in slavery around the world. More than 100,000 children are trafficked in the U.S. every year with 12 being the average age for victims of sex trafficking globally.
How do they do it?
The Salvation Army focuses its efforts on four core causes:
Support for Adults: Adult rehabilitation, veteran's affairs services, prison ministries, elderly services, combatting human trafficking and missing persons.
Support for Children + Families: Hunger relief, housing and homelessness, Christmas assistance, youth camps and recreation centers.
International Relief: Child sponsorship programs, anti-human trafficking, international health and HIV.
Disaster Relief: Emergency disaster service.
Progress so far?
Today, as the only charity to offer services in every ZIP code in the United States, The Salvation Army serves more than 30 million Americans every year. Their service includes 56.9 million meals, nightly shelter for 10.7 million people, treatment for 149,000 people in 141 rehabilitation facilities, more than 400 after-school programs, and immediate and long-term assistance following disasters to 231,000 people. Every year.
Supporters you may know:
Carrie Underwood, Jackie Chan, Jessica Simpson, Jonas Brothers, Kelly Clarkson, LeAnn Rimes, Sammy Hagar and Sheryl Crow.
Partners:
Countless local partners including The Dallas Cowboys and national partners such as Walmart stores, Target Corporation, and many others.
Array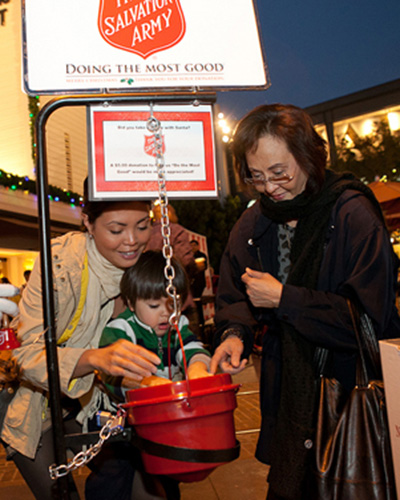 #RedKettleReason Giving Spree
November - December 2016 | Upcoming Project
In 2014, for the first time, donors were able to share their own reasons for supporting The Salvation Army in one place by using #RedKettleReason. That stream of more than 65,000 reasons then served to educate a larger audience about the numerous services the Army provides. In 2015, The Salvation Army called on Americans to post their #RedKettleReason video submissions for a chance to win an all-expenses-paid trip to NYC for a closed-to-the-public "giving spree" to benefit children in need in their hometown.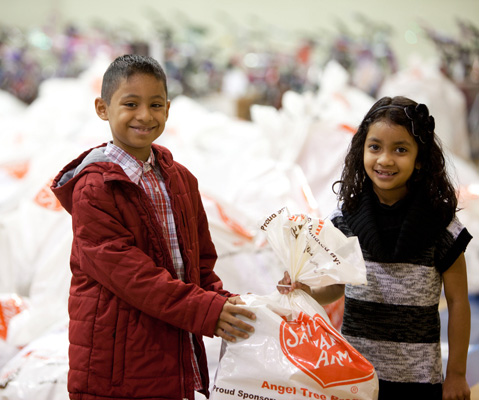 Angel Tree
November - December 2016 | Upcoming Project
Every child deserves to experience the joy of Christmas morning. Thanks to supporters of The Salvation Army's Angel Tree program, nearly one million children across America will find gifts waiting under their Christmas trees this year. The Angel Tree program provides new clothing or toys for children of needy families through the support of donors. (http://salvationarmyannualreport.org/angel-tree)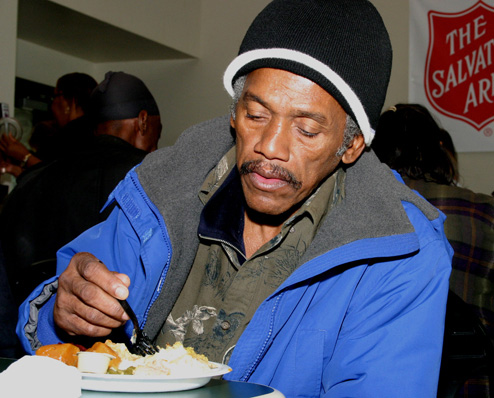 Poverty Relief
Ongoing | Current Project
Currently, 45.3 million Americans live in poverty. The Salvation Army works to give a hand up to those in need by providing 58.4 million meals, 10.8 million nights of shelter, adult rehabilitation, community support, youth recreation and more each year. The Salvation Army assists more than 30 million people on an annual basis. (http://www.salvationarmyusa.org/usn/ways-we-help)
Active Operating Locations
United States
Angola
Antigua
Argentina
Australia
Austria
Bahamas
Bangladesh
Barbados
Belgium
Belize
Bermuda
Bolivia
Botswana
Brazil
Burundi
Cambodia
Canada
Chile
China
Colombia
Congo (Brazzaville)
Congo (Kinshasa)
Costa Rica
Cuba
Czech Republic
Denmark
Dominican Republic
Ecuador
El Salvador
Estonia
The Færoes
Fiji
Finland
France
French Guiana
Georgia
Germany
Ghana
Greece
Greenland
Grenada
Guam
Guatemala
Guernsey
Guyana
Haiti
Honduras
Hong Kong
Hungary
Iceland
India
Indonesia
Republic of Ireland (Eire)
Isle of Man
Italy
Jamaica
Japan
Jersey
Kenya
Korea
Kuwait
Latvia
Lesotho
Liberia
Lithuania
Macau
Malawi
Malaysia
Mali
Marshall Islands
Mexico
Micronesia
Moldova
Mongolia
Mozambique
Myanmar
Namibia
Nepal
Netherlands
New Zealand
Nicaragua
Nigeria
Norway
Pakistan
Panama
Papua New Guinea
Paraguay
Peru
Philippines
Poland
Portugal
Puerto Rico
Romania
Russia
Rwanda
St. Kitts
St. Helena
St. Lucia
St. Maarten
St. Vincent
Sierra Leone
Singapore
Solomon Islands
South Africa
Spain
Sri Lanka
Suriname
Swaziland
Sweden
Switzerland
Taiwan
Tanzania
Togo
Tonga
Trinidad and Tobago
Turks and Caicos
Uganda
Ukraine
UAE
United Kingdom
Uruguay
Venuzuela
Virgin Islands
Zambia
Zimbabwe
30M
Americans in need are served each year
127
countries are served internationally
10.7M
Americans provided with shelter in 2014
148,800
people provided with rehabilitation services in 2014
56.9M
meals served in 2014
3.3M
people received holiday assistance in 2014
---