1 in 8
women will be diagnosed with breast cancer in her lifetime
40%
of breast cancers are detected by women who feel a lump
98%
five-year survival rate for breast cancer caught in localized stage
10%
of breast cancer diagnosis are due to family history
Breast cancer prevention through art, education, awareness & action
The Keep A Breast Foundation™ is a nonprofit organization with a MISSION to empower young people around the world with breast health education and support.
Why is it important?
Besides skin cancers, breast cancer is the most common cancer diagnosed among American women. It accounts for nearly 1 in 3 cases of cancer. Today, about 1 in 8 women will get breast cancer in their lifetime – that's 12% of women born today that will be diagnosed with breast cancer in their lifetime (that's enough to fill almost 5 stadiums full of people!). With only 10% of breast cancer diagnosis due to family history, most cancer cases can be prevented through the adoption of healthy lifestyle practices.
How do they do it?
Through creative outreach and awareness programs, Keep A Breast (KAB) is inspiring and educating young people to adopt preventative lifestyles that support breast health.
Progress so far?
They have distributed 141,833 pieces of educational materials since 2012 in five countries and 245 cities. They have also distributed critical education through its app: 32,000 downloads since 2010. Lastly, they have supported 383 survivors directly with a Treasured Chest Kit.
Supporters you may know:
Katy Perry, Gwen Stefani, Pink, Jason Mraz, Foo Fighters, Iggy Pop, Dita Von Teese, and Devo
Partners:
They do not have local partners however do partner with the Young Survival Coalition for its Treasured Chest program that supports newly diagnosed women.
Array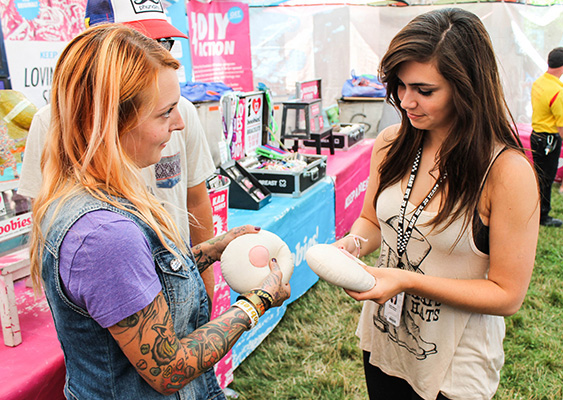 Keep A Breast Traveling Education Booth
Ongoing | Current Project
The Keep A Breast Traveling Education Booth (TEB) is KAB's touring, interactive education platform. It is a grassroots teaching tool that brings the message of breast cancer awareness and prevention directly to young people at the events they attend.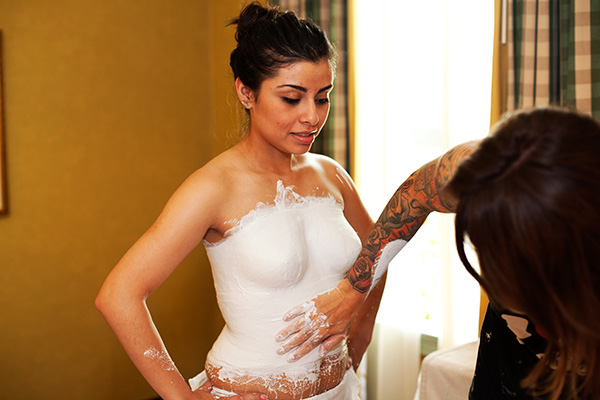 Treasured Chest Program
Ongoing | Current Project
The Keep A Breast and Young Survival Coalition's Treasured Chest Program gives any woman diagnosed with breast cancer an opportunity to document her body and feelings, by turning her casted torso into a beautiful work of art.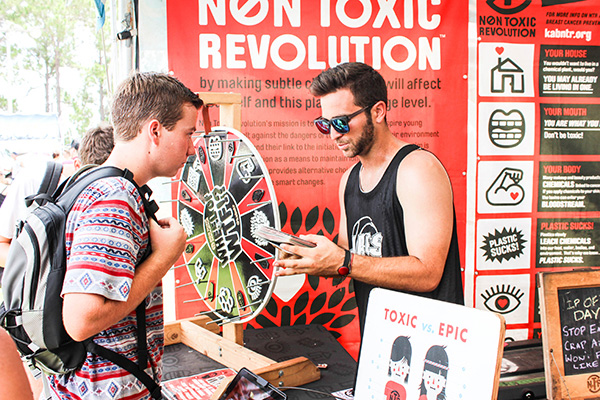 Non Toxic Revolution (NTR)™
Ongoing | Current Project
Non Toxic Revolution (NTR)™ aim is to inform, educate, and inspire young people to revolt against the dangers of toxic chemicals in their environment and food supply–especially those linked to the initiation of breast cancer.
Active Operating Locations
Los Angeles, CA (HQ)
Vancouver, Canada
Bordeaux, France
Santiago, Chile
London, England
Tokyo, Japan
141,833
pieces of education distributed since 2012
32,000
app downloads since 2010
5
Countries
245
cities visited since 2012
383
survivors supported with a Treasured Chest Kit
20,000+
young people spoken to one-on-one
68
events attended in 2015 with its Traveling Education Booth
15,150
pieces of educational material passed out in 2015
115
diagnosed women directly supported in 2015
---