$2,500
Our goal this year
250M
metric tons of plastic could enter the ocean by 2025
693
marine species affected globally by marine debris
1 in 10
species are reported to have been entangled in marine debris
13B
is the cost in environmental damage from plastics a year
3 drivers
of declining shark populations: overfishing, bycatch + finning
1 out of 4
shark + ray species classified as threatened with extinction
Protecting our ocean planet one dive at a time
Project AWARE® is a global movement of scuba divers protecting our ocean planet, one dive at a time. Focused on the critical issues of Sharks in Peril and Marine Debris, Project AWARE's MISSION is to empower thousands of divers in more than 180 countries to work together for a clean, healthy, and abundant ocean planet.
Why is it important?
Our ocean is under siege. Everyday trash like plastic bags, food wrappers and plastic bottles, to larger items like car batteries, kitchen appliances and fishing nets, is entering the sea at an alarming rate. Not only is it unsightly, it's dangerous to sea life, hazardous to human health, and costly to our economies. Marine animals become entangled in debris or mistake small particles of trash for food – often with fatal results. Trash removed during Dive Against Debris™ makes the ocean safer for marine life, and more importantly, information reported helps inform policy change.
When it comes to sharks, they are an essential species in keeping the marine ecosystem balanced. Nearly one out of four shark and ray species are threatened with extinction. Overfishing is driving sharks to the brink – with many populations down by 80 percent. Shark finning (removing shark fins and discarding the often still alive shark at sea) poses a major threat to populations.
How do they do it?
Through Dive Against Debris™, Project AWARE® supporters remove undersea litter collected while diving and report results that helps to drive future legislation. Divers pledge to follow Project AWARE's 10 Tips for Divers to Protect the Ocean Planet. For shark protection, divers are some of shark's closest and most influential allies. Project AWARE® has created a powerful, collective voice to lead global grassroots change that has helped to protect sharks against finning.
Progress so far?
Over 25,000 Project AWARE® divers have removed over 500,000 pieces of trash since Dive Against Debris™ launched in 2011. When it comes to shark protection, their efforts helped achieve protections for 21 species of sharks and rays.
Partners:
320 actively registered 100% AWARE partner dive instructors and dive centers across the globe, 1.5 million Project AWARE® scuba divers, ocean advocates, travelers, and consumers.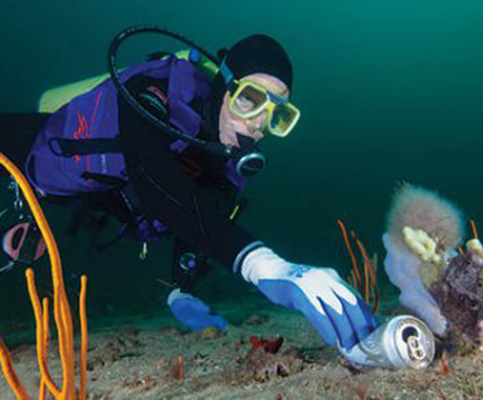 Dive Against Debris
Ongoing | Current Project
Project AWARE's flagship citizen-science program aims to reduce the devastating impacts of marine debris each time we dive. More than just a cleanup, Dive Against Debris™ is the world's first and only underwater marine debris survey that utilizes data collected by divers to inform policy changes leading to a measurable reduction of trash entering our oceans.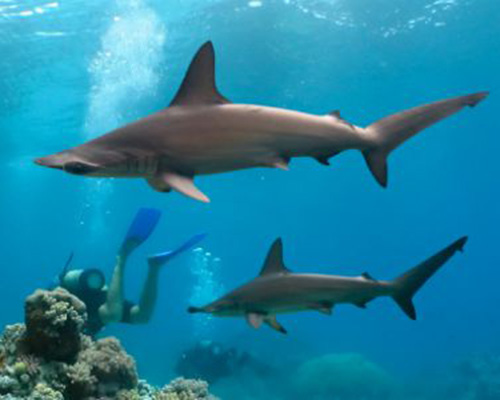 Sharks in Peril
Ongoing | Current Project
Shark fishing is largely unregulated around the world. Overfishing, bycatch and finning – the slicing of sharks fins and throwing away the body at sea - kills thousands of sharks every day. Uniting the powerful, collective voice of divers across the globe, Project AWARE® works to secure protection for endangered and at-risk shark species worldwide.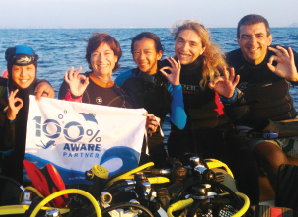 100% AWARE Partners
Ongoing | Current Project
Across the globe, scuba diving centers and instructors are committing to ocean protection through 100% AWARE partnerships with Project AWARE®. 100% AWARE partners support a healthy and abundant ocean by making a donation to Project AWARE® on behalf of each student that they certify.
Active Operating Locations
Rancho Santa Margarita, CA (HQ)
South America
Europe
Middle East
Africa
Asia Pacific
North America
500,000
pieces of trash removed from 25,000 divers since 2011
5,483
divers mobilized to advocate for sharks + rays
21
species of sharks + rays now protected
4,011
divers pledged in 2015 to follow ocean protection guidelines
---